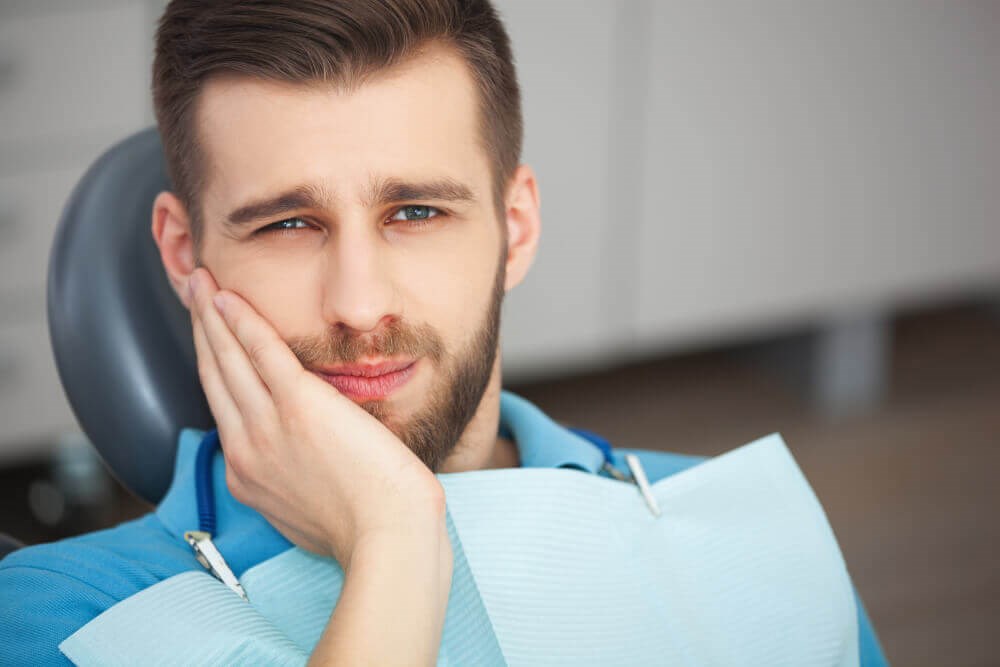 MAKE SURE YOU'RE PREPARED FOR A DENTAL EMERGENCY
Although you may not be able to avoid accidents and injuries, you could be prepared for how you handle a dental emergency. You may wonder: What counts as a dental emergency? When should I call my dentist in Monaca, PA? What can I do if I lose a restoration or knock out a tooth? These are all really good questions, that our team at DentalWorks - Beaver Valley would like to answer for you. If something happens to you or your family, we are here to help you with emergency dental care.
WHAT IS A DENTAL EMERGENCY?
Essentially, anytime you feel pain or anything is lost, you need to speak to your board-certified dentist in Monaca, PA. When in doubt, speak to your dentist to discover if you need emergency dental care. These are some of the top dental emergencies we have cared for at DentalWorks - Beaver Valley:
KNOCKED-OUT TOOTH
A tooth may get knocked out during sports, a car accident, an everyday mishap, and from other reasons. If an adult tooth falls out, carefully pick it up, clean it off as best as you can, and then hold it in your mouth while you get to the dentist. While the saliva in your mouth is great for preserving a tooth, cold milk is also be used.
LOST OR LOOSE RESTORATION
If a crown, bridge, filling, or other dental restoration is loose or comes out, speak to your dentist right away. If your restoration is loose or lost, your teeth are weaker and more vulnerable problems like infection.
BLEEDING GUMS
A little blood in your gums after brushing or flossing isn't good, but it isn't an emergency. If a cut in your gums causes significant bleeding or it doesn't clot quickly, it is a dental emergency. Keep pressure on the cut with a clean cloth while you contact your dentist.
CHIPPED TOOTH
Even though a chip in your tooth may not appear to be a huge deal, it actually can be. Depending on the size and placement of the chip, it can expose the sensitive interior pulp of your tooth. This may cause an infection or abscess without treatment, so speak to your dentist if you get a chip in your tooth.
BROKEN OR CRACKED TOOTH
A cracked or broken tooth should be treated right away to avoid a larger issue. Even if the crack is small or not visible, you still have to get urgent care from your dentist. Without treatment, a cracked or broken tooth can allow an infection and irritants into your dental nerves, causing sensitivity and pain.
SEVERE TOOTH PAIN
While any tooth pain should be reported to your dentist, severe tooth pain is a dental emergency. In some cases, the onset of your tooth pain may be sudden and severe. Tooth pain may also progress from mild and become severe pain over time. In any case, speak to your dentist right away to get help for severe tooth pain.
BEFORE YOUR VISIT
In the event that you or a family member is dealing with a dental emergency, contact your dentist right away. Even if you're not sure it counts as an emergency, contact your dentist. Don't take chances when it comes to your dental health. If you are calling your dentist after their office is closed, they might have an answering service that will contact your dentist in an emergency or a message giving you instructions in case of a dental emergency. When you speak to someone to schedule your appointment, ask for advice on how to store a knocked-out tooth or restoration.
COMMON EMERGENCY TREATMENTS
Depending on your dental emergency, your dentist will recommend an appropriate treatment. A broken or chipped tooth could be protected with a temporary crown or a quick bonding treatment with composite resin. A knocked-out tooth could be saved if you stored the tooth and get to the dentist right away.
AFTER A DENTAL EMERGENCY
After your emergency dental appointment, be sure to follow any instructions given by your dentist. This could include following a liquid or soft foods diet, taking prescription antibiotics, or scheduling a follow-up appointment. If you received a temporary crown, your dentist will schedule an appointment when your custom restoration is ready so it can be placed. Depending on your dental emergency, your dentist may recommend scheduling a dental health exam sooner or more often to help diagnose problems before they become dental emergencies.
WAYS TO PREVENT DENTAL EMERGENCIES
Sometimes accidents can't be avoided, but if you'd like to do what you can to avoid dental emergencies, these are a couple of our top tips:
AVOIDING STICKY AND HARD FOODS
Don't bite hard candy and ice as this can cause chips and cracks in your teeth. If you have a dental restoration (crown or bridge), you might want to steer clear of sticky foods, like caramel, since these can pull them out or make them loose.
GOING TO THE DENTIST EVERY SIX MONTHS
Visiting your dentist in Monaca, PA at least twice a year will be able to help you avoid dental emergencies. During your exam, your dentist will identify and treat issues, like cavities and gum disease, before they turn into serious pain. Your dentist should also check the wear of your restorations, so they can determine if they have to be replaced or repaired.
IMPROVING YOUR HOME ORAL CARE
Developing and following a fantastic home oral care routine can help you avoid problems like gingivitis (gum disease) or cavities that may turn into a painful dental emergency. Brush your teeth at least twice each day and floss at least once per day for healthy teeth and gums. If you need help with your brushing or flossing technique, get help from your dental team at your next appointment.
GET AN ATHLETIC MOUTH GUARD
If you play a contact sport, like football or hockey, a mouth guard is probably required. However, a mouth guard is a smart accessory for any sport where you might fall and knock out a tooth, like skateboarding. DentalWorks - Beaver Valley offers high-quality mouth guards for comfortable protection.