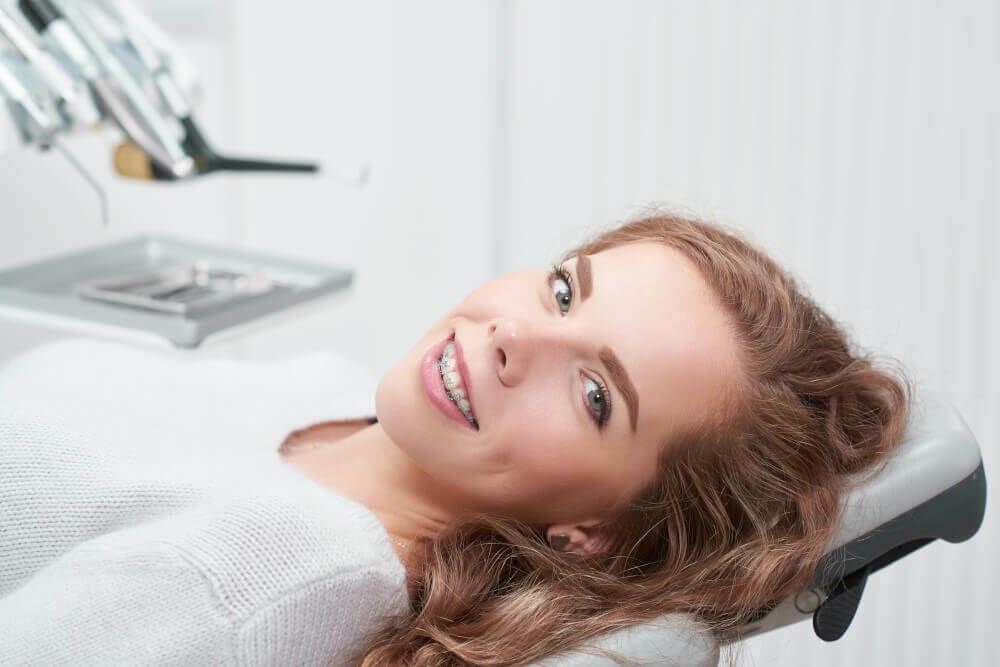 BRACES FOR ADULTS AND KIDS
When you first meet people, one of the first things they will notice is your smile and if you are not comfortable with it, then you may not be as confident in your smile as you should be. Braces can help straighten your teeth and improve your dental health at any age. Ideally, braces are completed when a person is an adolescent or teen since their mouth is still developing and it's easier to re-shape a misaligned bite. However, more adults in Monaca, PA are wanting orthodontics if they didn't have them as a child or if they didn't wear their retainers long enough (yes, it was important to wear it). Fortunately, there are more options today in orthodontic treatments, including clear, removable aligners so most people won't even know that you're wearing them. At DentalWorks - Beaver Valley, our experienced team offers several modern orthodontic choices to help you or your family get a healthier smile. If we don't have the treatment you want, we can refer you to an excellent orthodontist in Monaca, PA.
HOW BRACES HELP YOUR ORAL HEALTH
Crooked or overlapping teeth don't only hurt your self-confidence, but they can also hurt your dental health. Crowded or crooked teeth are harder to clean fully, which can cause problems like cavities, halitosis (bad breath), and gum disease. When your jaw and teeth are not properly aligned, it can lead to temporomandibular joint disorder (TMD). Severe dental misalignment can also lead to speech impediments. These are just a few of the reasons why getting an orthodontic treatment is not just about improving your smile, but also your health. To find out whether you or your child should get braces, schedule a consultation with a dentist or orthodontist in Monaca, PA.
CHOICES FOR YOUR ORTHODONTIC TREATMENT
During your consultation, your dentist or orthodontist will use digital x-rays and other methods to check your bite. They will determine what type of dental malocclusion you have (under bite, overbite, open bite, or crossbite) along with the stage of your misalignment. From there, they can explain treatment options and costs to help you decide which is best for your needs and goals. As soon as you have picked an orthodontic treatment, they can customize your treatment plan and estimate the length of time you will need to wear orthodontics. After your initial appointment to have your braces put on or to get your first set of aligners, you will need to schedule appointments every 4 – 6 weeks or as recommended for adjustments and check-ups.
METAL BRACES
The most popular and typically most affordable method to straighten your teeth is with traditional metal braces. A metal bracket is adhered to each tooth with a metal wire connecting them all to move the teeth into the right place. Younger patients (and adults if they're feeling fun) can select from a variety of elastics to give their brackets a nice pop of color.
CERAMIC BRACES
Ceramic braces generally cost more than traditional metal braces, but they are almost invisible. Though they are made with a strong ceramic material, they are more fragile than metal braces and patients need to be cautious about dark-colored food and drinks, including coffee, tea, berries, and tobacco.
LINGUAL BRACES
A newer option, lingual braces are custom designed to sit on the back of your teeth. They cost more than metal or ceramic braces and are more complicated to apply so a skilled orthodontist is advised. They can be irritating to your tongue and cause some issues with speech while you are adjusting to your new braces.
SELF-LIGATING BRACES
Also known as damon braces, self-ligating braces are like traditional metal braces, but they don't use elastics. Self-ligating braces use a unique mechanism to hold the arch wire in place rather than elastics, which are more likely to break.
CLEAR ALIGNERS
One of the most popular choices for adults, clear aligners can be removed to clean your teeth and eat. The least visible of all orthodontic treatments, a custom series of aligners gently move the teeth into place. A set of aligners is generally worn for two weeks before you move to the next set.
MAINTAINING YOUR RESULTS
No matter which orthodontic method you decide on, you'll be excited with the straighter smile and freedom as soon as it's over. While the major part of your treatment is over, there is still some work to do. To keep your teeth in place while your gums and jaw adjust, you will should wear a retainer. Initially, you will need to wear your retainer as much as possible, removing it only to eat and brush your teeth. Over time, your dentist or orthodontist may recommend only wearing it when you sleep. It's important to wear your retainer as long as you are told to avoid future problems. Many adults who get braces are getting them or the second time because they didn't use their retainer as long as they needed to. If you or your child has trouble remembering to wear a retainer, ask your dentist or orthodontist about getting a fixed retainer. A thin wire attached to the back of the upper and/or lower teeth, a fixed retainer cannot be removed or lost.
In addition to getting and wearing your retainer, you should keep your new smile healthy with regular visits to your Monaca, PA dentist for oral exams and bi-annual cleanings. If you wish to make your smile look even better after orthodontics, DentalWorks - Beaver Valley offers several cosmetic treatments, like teeth whitening. Schedule a consultation at our office in Monaca, PA to get more information about your smile makeover options.
A STRAIGHTER, HEALTHIER SMILE
If you want a straighter smile for either yourself or your family, schedule a consultation at our office in Monaca, PA. Our skilled team offers several orthodontic treatments to meet your needs and budget. Orthodontics can help anyone enhance the appearance and health of their smile.