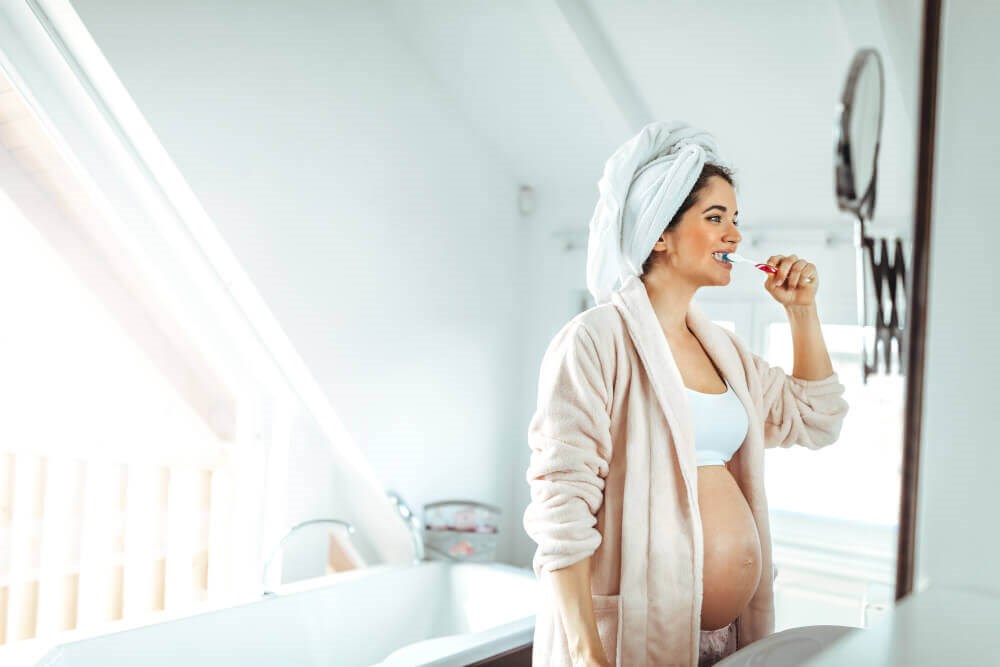 HOW DOES YOUR ORAL HEALTH CHANGE WHEN YOU'RE PREGNANT?
There's so much to think about and do to help your baby develop through your pregnancy. A crucial thing you can do to help yourself and your baby is to ensure that your teeth and gums are healthy during your pregnancy. You're at higher risk for gingivitis (gum disease) during pregnancy and gum disease is linked to premature birth and low birth weight. However, there is a lot you can do to improve your dental health, including going to your dentist in Monaca, PA for an exam and cleaning. At DentalWorks - Beaver Valley, our experienced team helps women improve their oral health and deal with regular dental concerns while pregnant. Read on to learn about how pregnancy may affect your dental health and ways to keep yourself and your baby healthy during this period.
COMMON DENTAL CONCERNS TO WATCH FOR DURING PREGNANCY
SENSITIVE TEETH
Thanks to hormones and increased blood flow while pregnant, your teeth may feel a little more sensitive. You may notice a sharp pain when you drink or eat something that is especially hot or cold.
DRY MOUTH
A common issue among pregnant women is dry mouth. This may make it much easier for cavities to form because you have less saliva to rinse away bacteria. Alternately, some women realize that they have excess saliva production during their pregnancy.
MORNING SICKNESS
In addition to being an unwelcome symptom of early pregnancy, morning sickness can be a problem for your teeth. The acid from your stomach can erode your enamel. After a wave of nausea, make sure you rinse with a fluoride mouthwash or brush your teeth.
PREGNANCY GINGIVITIS
The chance of developing gum disease increases during your pregnancy. Your gums may be redder, more sensitive, inflamed, and even more likely to bleed when you brush and floss. The increased hormone levels in your body make it much easier for the bacteria that causes gingivitis to thrive.
WAYS TO IMPROVE YOUR ORAL HEALTH THROUGHOUT YOUR PREGNANCY
BRUSH YOUR TEETH
In addition to bi-annual professional cleanings at your dentist, you should be brushing your teeth at least twice each day for two minutes. Most dentists recommend a soft-bristled brush during pregnancy so you can gently clean your teeth and massage your gums. Ask your dentist or hygienist to demonstrate the proper brushing technique during your visits to make sure you are not brushing too hard.
SCHEDULE AN APPOINTMENT AT YOUR DENTIST
Keep visiting your board-certified dentist in Monaca, PA for oral exams and cleanings. Be sure to tell your dental team that you are pregnant, or after your baby is born, if you are breastfeeding. They will take more precautions with x-rays and other treatments to make sure they are safe. Your dentist might also recommend products, like toothpaste and mouthwash, that could assist in improving your oral health during your pregnancy and address problems, for example, dry mouth and inflamed gums.
WATCH WHAT YOU EAT
Although it can be hard to avoid pregnancy cravings, do what you can to stick to a balanced diet. Your baby's teeth will begin to develop during the second trimester, so this is a great time to boost your intake of protein and calcium as well as vitamins A, C, and D. If you do have a sugary treat (sometimes the baby makes you do it!), brush your teeth or rinse with mouthwash.
DAILY FLOSSING
Even though you ought to have been flossing daily, it is especially important to now that you're pregnant. Flossing at least once a day removes bacteria and debris that may get trapped between your teeth. This helps you avoid cavities and gum disease.
DRINK PLENTY OF WATER
Fight dry mouth and rinse bacteria from your enamel by drinking water during the day. If your city adds fluoride to your water supply (check with your city whether fluoride is added to your water supply) this can help improve your dental health.
TREATMENTS DURING YOUR PREGNANCY
If you need a dental procedure while you are pregnant, like a tooth-colored filling for a cavity or a scaling and root planing, your dentist will help you decide if this can be safely performed. Generally speaking, dental procedures with local anesthesia are best completed during the second trimester. Any procedures that require sedation should be avoided. Avoiding the need for dental procedures is a big reason to take good care of your oral health.
POST-NATAL DENTAL CARE
Once your baby is born, make sure to keep taking care of your oral health by brushing and flossing every day. During your next visit to your dentist, ask about scheduling your baby's first appointment with the dentist. Children should visit the dentist before their first birthday. At this first appointment, your dentist will monitor your child's oral health and the development of their teeth. Your dentist can also answer your questions about how sucking on their thumb and pacifiers impact your child's mouth, bottle rot or tooth decay, and other common concerns. At DentalWorks - Beaver Valley, our experienced team will work hard to make sure your child has a great first experience at the dentist to help encourage a lifetime of great oral health.
GOOD ORAL HEALTH DURING PREGNANCY HELPS YOU AND YOUR BABY
Looking after your oral health while you're pregnant will decrease your discomfort during this often uncomfortable period and help your baby grow. If you're pregnant or thinking about becoming pregnant, schedule a dental exam with your board-certified dentist in Monaca, PA to discover how you can improve or maintain the health of your teeth and gums while pregnant. DentalWorks - Beaver Valley offers compassionate care throughout your pregnancy and a positive experience for your whole family.