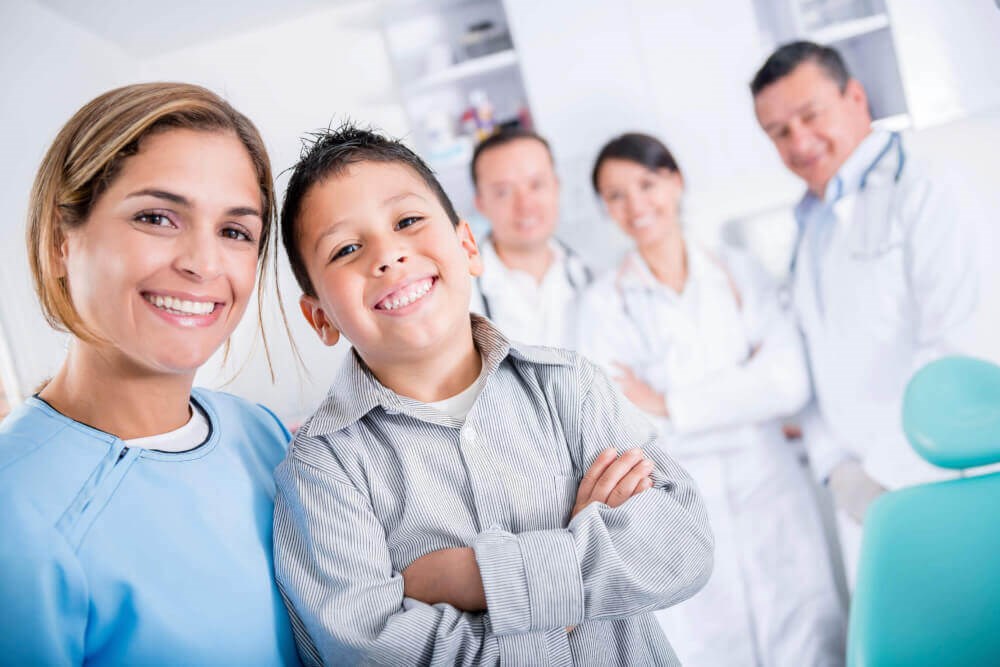 MEET YOUR DENTAL HYGIENIST
If you're like most people you probably know your dentist's name, but what about the name of your dental hygienist? You may not think about them too much, but a dental hygienist is very crucial to your oral health. Before your next visit to your dentist in Monaca, PA, learn about what your dental hygienist does and how they can help make your smile healthier. At DentalWorks - Beaver Valley, we are proud to have several dental hygienists who are wonderful at caring for patients. Skilled, compassionate, and well-educated, an excellent dental hygienist can make sure that you have a pleasant experience when you visit the dentist and make sure you keep coming back for regular cleanings and oral health examinations.
A DENTAL HYGIENIST'S JOB
During a visit to your dentist in Monaca, PA, most of your appointment will likely be completed by your dental hygienist. They take x-rays, check your oral health, clean your teeth, and also work with you to improve your home oral routine. As long as you don't have any major issues, you are probably going to spend more time with your dental hygienist than your dentist. If you're worried or have fears about going to the dentist (dentophobia), tell your dental hygienist. They can walk you through what will happen during your oral health examination and cleaning so you aren't surprised. They can also stop for frequent breaks and work in smaller sections to help keep you relaxed and comfortable.
TAKING DIGITAL X-RAYS
Once per year, you should get x-rays to help your dental team better evaluate the health of your mouth. Your dental hygienist will generally take these at the start of your appointment. Digital x-rays normally only take a few minutes and use a small amount of radiation as a small sensor is placed between your teeth while the dental hygienist gets the images. Every few years, you may need a full mouth series of digital x-rays. Your dental hygienist will help position you in the equipment, which will rotate around you as you stand still. A full mouth series of x-rays helps your dental team check the health of your gum tissue and jawbone.
TWICE YEARLY CLEANINGS
No one is perfect when it comes to their oral hygiene. Maybe you don't brush as often or as long as you should. This is why your dental hygienist takes the time to deep clean your enamel at least twice a year. Your dental hygienist will carefully remove built-up plaque and tartar from your enamel using special tools. Once your enamel is rid of excess plaque and tartar, your dental hygienist will polish your enamel to remove stains. This helps brighten and reinforce your smile.
IMPROVING YOUR HOME ROUTINE
During your visits, your dental hygienist can help answer your questions about brushing and flossing technique. It's imperative that you are both cleaning your teeth often enough (twice a day) and with the correct technique. Your dental hygienist can also recommend products, like a particular toothpaste or mouthwash. After your cleaning, they can also point out spots that you may want to pay more attention to at home if there's a whole lot of tartar and plaque.
ORAL HEALTH SCREENINGS
Throughout your visit, your dental hygienist will perform an oral health examination. A dental hygienist looks for indications of decayed enamel, gum disease, and oral cancer. If they find any issues, your dental hygienist will talk to your dentist so they can diagnose the problem and talk about your treatment options.
EDUCATING PATIENTS
There's no such thing as a dumb question. Dental hygienists have heard it all. When you have any questions or concerns, ask your dental hygienist. Tell your dental hygienist if you notice your gums are bleeding after your floss or if you're experiencing tooth sensitivity. Your hygienist can answer questions about chronic bad breath or help you decide if you want to get a cosmetic treatment like laser teeth whitening.
FLUORIDE TREATMENTS
Fluoride treatments are typically recommended for younger patients, but older patients may also request them. If you are getting a professional fluoride treatment, your dental hygienist will normally perform it after your cleaning and oral health examination in your favorite flavor. Your dental hygienist will time the treatment and help you get through it if you're nervous. Afterward, your dental hygienist will talk to you about how long you should wait before eating or drinking.
THE EDUCATION AND TRAINING OF A DENTAL HYGIENIST
To work as a dental hygienist, a person will need to complete at least a two-year higher education program after high school in dental hygiene. Many hygienists choose to obtain a bachelor's or even a master's degree in dental hygiene. Most states require dental hygienists to graduate from a dental hygiene education program approved by the Commission on Dental Accreditation (CODA). After this, they typically take the National Board Dental Hygiene Examination. As soon as they pass, they will be a Registered Dental Hygienist (RDH). After this, most states require dental hygienists to take a minimum number of continuing education courses every year or every few years to re-certify. In short, your dental hygienist worked hard to get their job and they will continue to learn about the latest tools and techniques so they can better help you and your family.
GET TO KNOW A DENTAL HYGIENIST IN Monaca, PA TODAY
Now that you know more about the important role dental hygienists play in improving your oral health, get in touch with a dental practice in Monaca, PA to schedule an oral health examination and cleaning for yourself and your whole family. Hopefully, you'll be more conscious of how hard your dental hygienist is working and learn more about them. If you're looking for an excellent dental practice with experienced dental hygienists, we would like to schedule an appointment for you at DentalWorks - Beaver Valley.