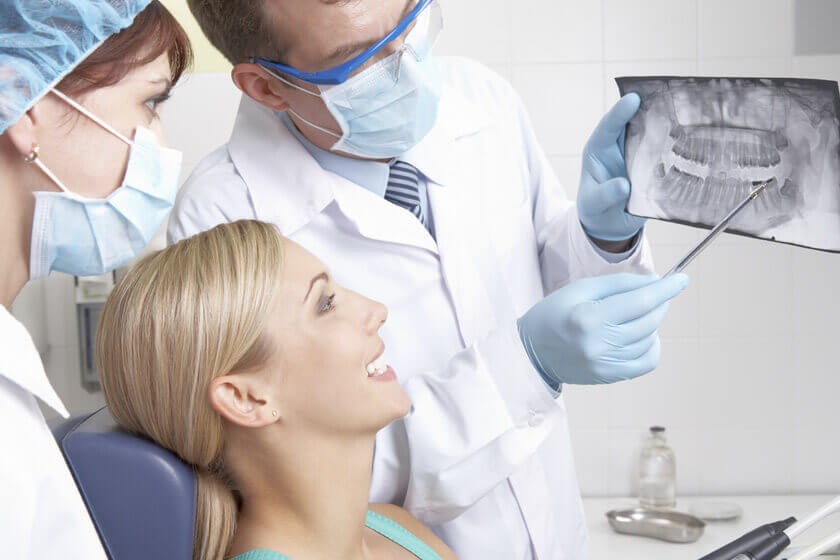 IF YOU'RE MISSING TEETH, YOU SHOULD BE THINKING ABOUT DENTAL IMPLANTS
A major factor in an attractive smile is having all of your teeth. Even a single missing tooth, whether the hole is visible or hidden in your back teeth affects the health and appearance of your mouth. The great news is that thanks to modern dental implants, you can replace one, several, or all your teeth with restorations that look and feel natural, which don't require special care. Our team of dental professionals at DentalWorks - Beaver Valley is happy to be able to offer many different types of dental implants and restorations for our patients in Monaca, PA. If you're missing one tooth or more, read on to learn about the advantages of dental implants, the different implant and restoration types, how to know if you're a good candidate for dental implants, how implants are placed, and how you care for your implants. If you want to learn more about implanted restorations, contact our office in Monaca, PA to schedule an oral health exam and implant consultation.
WHY CHOOSE DENTAL IMPLANTS OVER TRADITIONAL RESTORATIONS
Traditional restorations for missing teeth (bridges and removable dentures) have helped lots of people for a long time, but now, there's a newer, better alternative. Traditional restorations require extra care, come with food restrictions, and often don't feel stable or look natural. In addition, without the tooth root to stimulate the jawbone and gums, atrophy sets in and eventually affects the health and appearance of your mouth. Implanted restorations keep the jawbone and gums stimulated while offering a stable base for the restoration. Implant-supported restorations can be treated like your natural teeth, which means no food restrictions and no soaking overnight.
OPTIONS IN IMPLANT-SUPPORTED RESTORATIONS
Based on you just need one tooth replaced, several, or all of them, DentalWorks - Beaver Valley offers a wide range of implanted restorations.
IMPLANT-SUPPORTED PARTIAL DENTURES
To restore many but not all of your teeth, implant-supported partial dentures attach to multiple implants to fill in gaps. The false teeth attached to the implanted posts will be custom designed and skillfully crafted to blend with your remaining teeth for a seamless smile.
IMPLANT-SUPPORTED BRIDGE
For just one or a few teeth, an implant-supported bridge may be attached to a number of dental implants. For added security, the false teeth or tooth will be connected to both the implant(s) and a hollow crown(s) placed over an adjacent tooth.
IMPLANT-SUPPORTED CROWN
To restore a single missing tooth, a dental implant can be attached to a crown. The implant-supported crown will be shaped and shaded to blend with your other teeth for a seamless smile.
IMPLANT-SUPPORTED DENTURES
To replace all the teeth on your top and/or bottom arch, dentures may be attached to multiple dental implants. It takes at least four implants per arch to support this restoration.
BEST CANDIDATES FOR IMPLANTED RESTORATIONS
Before it is possible to get an implanted restoration, your dentist in Monaca, PA will need to decide whether you are a suitable candidate. Generally speaking, you will need to have good oral health, which includes strong gums and a healthy jawbone. If your gums and/or jaw cannot support an implant, your dentist may perform gum or bone grafting. Grafting surgery will add to your total treatment time, but it will help make sure your implant is secure in your mouth before the restoration is attached. Implant-supported restoration candidates should not use tobacco products (chewing, smoking, or vaping) since this will affect your recovery.
ORAL SURGERY TO PLACE THE IMPLANT(S)
Implant-supported restorations can take more time than traditional restorations, but most patients feel that the results are worth it. As soon as your dentist has determined you are a good candidate for dental implants, they will create a schedule for your treatment plan. If needed, extractions, gum grafts, and/or bone grafts will be performed to prepare your mouth. Then, your implant surgery will be scheduled. Commonly performed with IV sedation, a dentist will screw the post(s) into strategic points through the gum tissue and into the sockets in your jawbone. They will also take physical or digital impressions, which will be sent to a dental laboratory to help them design and build your custom restoration. After implant placement surgery, your mouth can feel a little sore as your gums and jawbone integrate with the post(s). It's important to follow all the post-surgical instructions from your dentist to help prevent an infection and speed your recovery. It will take approximately 3 – 6 months before the post(s) is strong enough. During this time, your dentist will most likely place a temporary restoration or cover over the post for protection. Once your dentist determines the post(s) is strong enough, they will attach your customized crown, bridge, or dentures. Slight adjustments may be necessary to make sure your restoration is comfortable and secure. It may take a little time for you to adjust to your restoration, but over time, you should be smiling, eating, and talking with ease.
TAKING CARE OF YOUR IMPLANT-SUPPORTED RESTORATION
One of the biggest advantages of an implant-supported restoration is that it should be cared for just like your natural teeth. That includes brushing twice a day with a soft-bristled toothbrush and fluoridated toothpaste in addition to flossing at least once a day. Many dentists also suggest rinsing your mouth with mouthwash to help rinse away debris, bacteria, and plaque. Along with a great home oral care routine, you need to go to a dentist in Monaca, PA at least twice a year for an annual oral health exam and bi-annual professional cleaning. During these exams, your dentist can check the health and wear of your restoration. They will let you know if the restoration and/or implant needs to be repaired or replaced.
IMPLANT A RESTORED SMILE ON YOUR FACE
Implant-supported restorations have improved the lives of many men and women in Monaca, PA. If you are missing any number of teeth and are considering restoring your smile with an implant-supported restoration, contact DentalWorks - Beaver Valley to schedule an oral health exam and consultation. Our team of dental professionals will work with you to decide whether you are a good candidate and develop your personalized treatment plan that will get you on the path to a beautiful smile.