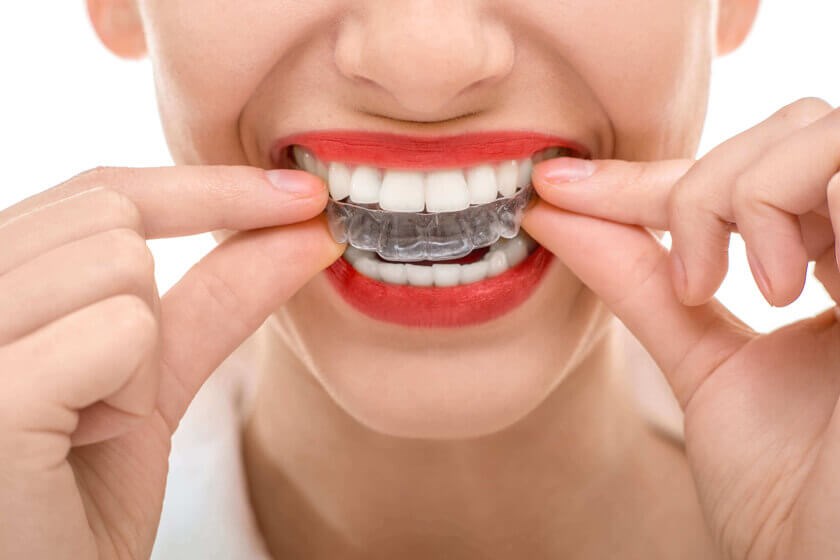 IN A NUTSHELL, WHAT IS INVISALIGN?
Invisalign is an advanced orthodontic treatment carefully moves teeth into their optimal position through a series of custom-made removable aligners. Invisalign is a fantastic treatment for both older teenagers and adults in Monaca, PA who want to improve the health and appearance of their smile without the visibility and inconvenience of traditional metal braces. Our team of dental professionals at DentalWorks - Beaver Valley has years of experience in helping our Monaca, PA patients get straighter, healthier smiles through customized Invisalign treatment plans. In the following post, our team at DentalWorks - Beaver Valley answers some of the questions our patients have about Invisalign, such as what does Invisalign help, why many patients prefer Invisalign rather than braces or other aligners, cost of Invisalign aligners and retainers, why it's important to wear a retainer after teeth straightening, and more. Once you've read through our blog, schedule a consultation if you have more questions or if you want to discover if you're a great candidate for teeth straightening with Invisalign.
WHAT ISSUES CAN INVISALIGN IMPROVE?
Invisalign can fix a wide assortment of issues from men and women who just want generally straighter teeth to individuals who should correct severe alignment issues. At your initial consultation, your dentist should perform a bite assessment and determine if you have an overbite, underbite, crossbite, or an open bite. Invisalign can also fix concerns with gapped or crowded teeth. No matter what issue you have with your bite, your dentist can form a customized Invisalign treatment program to improve your alignment and improve the appearance of your smile.
WHAT ARE THE BENEFITS OF INVISALIGN RATHER THAN TRADITIONAL BRACES?
One of the primary advantages of Invisalign over braces is that virtually no one will be able to tell that you have them in. The aligners are transparent so they are practically invisible while metal braces are bulky and obvious. Invisalign can also be removed to make eating, brushing, and flossing easier. Each Invisalign clear aligner is custom-made for your bite to move your teeth closer to their correct position. There are no wires or brackets to poke and cut the delicate soft tissue inside your mouth.
WHAT ARE THE BENEFITS OF INVISALIGN OVER OTHER ALIGNER BRANDS?
In recent years there are lots of different brands of aligners on the market that are trying to compete with Invisalign. Some of these even allow you to buy clear aligners from your home without going to the dentist. Although this may be convenient, the experience and skill of a board-certified dental professional along with the durable materials and advanced Invisalign system can have a major effect on your results. In contrast to other clear aligner treatments, Invisalign typically fits better and delivers faster results. Although other brands might be less expensive, you are probably going to sacrifice quality and comfort for results that may not last as long.
WHAT DOES AN INVISALIGN TREATMENT COST?
The cost for your Invisalign treatment will be different based on the number of aligners you need to accomplish your goals. At your initial consultation, your Invisalign team will assess your alignment and then create your custom treatment program to fit your needs. They will discuss the number of aligners you will need during the course of your treatment, which will help them calculate your cost. When you have dental insurance, our team at DentalWorks - Beaver Valley will contact your carrier to verify your benefits and create a better estimate of your out-of-pocket cost.
HOW MUCH ARE INVISALIGN RETAINERS?
The cost of your Vivera retainer should be included in the total cost of your Invisalign treatment. Your dental team will go over your teeth straightening plan and cost during your initial Invisalign consultation. If you have dental insurance, a portion of the cost of your Invisalign treatment and retainer could be covered. If you don't have dental insurance or your treatment is not covered, you could be able to use your flexible spending account (FSA) or health savings account (HAS) through your regular health insurance. Several dental practices in Monaca, PA offer flexible payment plans for Invisalign or they can assist you in finding low-interest medical financing that will make an Invisalign treatment more affordable.
HOW IMPORTANT IS IT TO WEAR MY RETAINER?
After your initial teeth straightening treatment is finished, your teeth are in the correct position, but your gums and jawbone still have to adjust to the changes. This is the reason why it is so important to get and wear your Invisalign retainer. Custom made from the same clear material as the aligners, Vivera retainers help make sure the results of your Invisalign last for a long time. Quite a few adults who have Invisalign had braces as a child but didn't wear their retainers so their teeth moved back out of position and they need a second treatment. This is why it is very vital that you get a Vivera retainer and wear it as often as advised by your dentist.
WHAT SHOULD I DO IF I LOSE AN ALIGNER OR MY RETAINER?
If you lose or damage an Invisalign retainer or aligner, inform your dentist immediately. It's very important to get a new one to avoid any delay in your treatment with a lost aligner or letting your teeth move out of place after your treatment if you aren't wearing your retainer. A new aligner or retainer can be easily made for you at the Invisalign dental laboratory based on your latest digital impressions. Do not try to skip to your next aligner or give up wearing your retainer as this could have major repercussions on your alignment.
GET A BETTER SMILE WITH INVISALIGN
If you have gaps, crowded teeth, an underbite, overbite, or another sort of alignment issue, the dental professionals at DentalWorks - Beaver Valley will explain your treatment options for a straighter smile. At your initial appointment at our office in Monaca, PA we can answer all of your questions and address any worries about Invisalign before we develop your custom treatment plan.